Cultural travel – Lower Saxony has rich pickings for culture vultures
Explore in wonder; experience and enjoy – Lower Saxony has cultural appeal in abundance! For over 1,000 years painters, sculptors, engineers, great rulers and ordinary people have left their cultural stamp everywhere, from the North Sea to the Harz mountains. Set off on an exciting journey through space and time – picturesque mills, exciting museums and the buildings of the Weser Renaissance are just waiting to be discovered. Lower Saxony's towns and cities offer a wealth of fascinating cultural events: traditional Schützenfeste (fairs with shooting matches), medieval markets, colourful firework spectaculars or festive Christmas markets set against historic backdrops.
Potter and explore, learn and understand: Lower Saxony's museums, art venues and galleries are full of surprises. Lower Saxony's museum scene is as diverse as its visitors – it has more than 600 renowned museums telling the story of the state's culture and history. And our state's cultural scene has even been honoured by the United Nations: the former ore mine at Rammelsberg hill and Goslar's enchanting Old Town, as well as the early Romanesque St Michael's Church and Hildesheim Cathedral, are all UNESCO World Heritage sites.
Mills are another characteristic feature of Lower Saxony's landscape: you won't be able to miss them on a journey through the state.
Lower Saxony still has around 800 watermills and 600 windmills – many of them lovingly restored and open to visitors.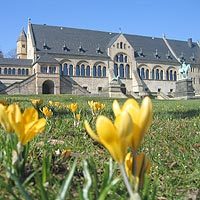 Image Copyrights

:

TourismusMarketing Niedersachsen GmbH