Magnificent palaces and proud castles
Many of Lower Saxony's stately homes evoke reveries of opulent festivities, stirring acts of derring-do and lavish revelry. Visitors who enter through the stone gates will find themselves transported back into a long-gone age. Today these splendid buildings offer unique opportunities for overnight stays and private functions in a historic setting.
Join us on a thrilling time journey to the finest palaces, castles and manor houses in Lower Saxony. All around Hannover, the Guelphs have left their indelible stamp – and a wealth of cultural treasures. From Lower Saxony, the former Kingdom of Hannover made its mark on world history through its close ties to the English royal family. In the Weserbergland hills, however, the splendid castles built in the Weser Renaissance style attest to the area's heyday in the Middle Ages, when merchants used the river Weser as their gateway to the world.
Colourful floral displays and true pearls of landscape design can be found in the adjoining parks and gardens of the palaces and castles. The charm of bygone ages still hangs over these romantic green paradises: ornamental and ceremonial gardens from days of yore, with medieval monasteries and castle gardens surrounding the aristocratic country houses.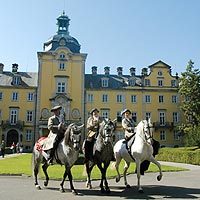 Image Copyrights

:

TourismusMarketing Niedersachsen GmbH