Lower Saxony – a wheely great place for cyclists!
Why not get on your bike – whether it's your own, or a hired one – and take off on an extensive network of cycle-touring paths? For many active holidaymakers, cycling is the nicest way to discover the charm of Lower Saxony's various regions. The state offers tours for young and old, for those going it alone, for groups and for the whole family. A total of 13,000 km of cycle paths criss-crosses the entire state. Wherever you decide to go – mountains or moorland, riversides or the seaside, mudflats or the open heath – a cycling tour is a great way to get to know the land and its people.
Enjoy views to the distant horizon, and see creaking windmills, old river locks and splendid tree-lined avenues passing you by. On our cycle paths you can enjoy both nature and culture at a leisurely pace; in our lowland countryside and river valleys, there's no need to work up too much of a sweat. For those who want more of a physical challenge, you can find out what shape you're in by mountain biking in the hills of the Harz, Weserbergland or Deister regions. As well as Germany's best-loved long-distance riverside cycle paths, the "Elberadweg" and "Weserradweg", many thematic routes await you such as the Lower Saxony Windmill Route or the "Deutsche Fehnroute".
With the "Bahn & Bike" service offered by railway operator Deutsche Bahn, your holiday can start even before you get there. With over 500 cyclist-friendly and low-priced "Bett & Bike" ("bed & bike") accommodation opportunities, two-wheeled travellers will find just the right place to hang their helmet. A safe spot to put your trusty steed, facilities for drying clothes and an appetizing power breakfast are all part of the standard service for guests. So when will you saddle up your bike?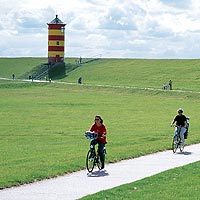 Image Copyrights

:

TourismusMarketing Niedersachsen GmbH