Town- and city-based holidays
Fun, shopping, touring and exploring in Lower Saxony's urban landscapes
We see an urban landscape as the product of a particular blend of houses, squares, streets and people – which is what gives a place its very own special character. Lower Saxony has an abundance of appealing towns and cities, each with their own unique feel: bustling metropolitan centres, historic communities or resorts with maritime charm – when it comes to "urban" holidays in Lower Saxony, variety and adventure are the order of the day.
From the leafy state capital of Hannover to Osnabrück – the city famed for the historic Peace of Westphalia – and the "lion city" of Brunswick, the region's larger cities have a fascinating appeal, with cultural sights and a wide array of shopping options. Exclusive boutiques and department stores, excellent specialist outlets, shops perfect for browsing and colourful flea markets – with all this, who wouldn't feel the urge to take some leisurely retail therapy?
Lower Saxony's historic towns and cities are strung out along old trading routes or picturesque rivers. Medieval town walls stand guard over compact town centres with old market places, rustic half-timbered houses or splendid buildings in the Weser Renaissance style. Near the North Sea coast and along the inland waterways, it is mainly the harbours, canals, ships and boats that give the towns their maritime flair. Accompanied by nightwatchmen in traditional costume, you can stroll through dark alleys and transport yourself back to the Middle Ages – many towns in Lower Saxony offer very special walking tours that really bring their past history to life for visitors.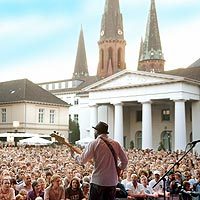 Image Copyrights

:

TourismusMarketing Niedersachsen GmbH